NAGAD Territory Officer Job Circular 2023 has been published. NAGAD Job Circular 2023 has been published by the authority. NAGAD Mobile Banking Territory Officer Job Circular 2023 is good news for job seekers in Bangladesh. All information on Mobile Banking NAGAD TO Job Circular 2023 is available below. NAGAD is a Non-Government Organization in Bangladesh.
NAGAD Territory Officer Job Circular 2023: 
Organization Name: NAGAD (Mobile Banking Organization)
Post Name:
1. Territory Officer
Online Application Last Date: 29 January 2023 
Send CV to: recruitment@nagad.com.bd
Note: Mention in the subject line "Application for the position "Territory Officer."
NAGAD Job Detailed: 
*Strategy, Business plan & Target:
· Responsible for achieving all the sales hygiene parameters, distribution coverage extension, and transaction targets of the respective territory.
· Assist Area Manager along with the Regional Sales Manager to prepare a business plan and target allocation.
· Help the decision-making process for monthly/quarterly performance reviews and market analysis.
*Operation & Team Management:
· Monitoring stock flow, market movement, and sales promotions to ensure successful execution.
· Active involvement in business sessions with various channel partners, distribution owners, and key stakeholders.
· Responsible for training of distributor's employees.
· Responsible to monitor the right Distribution House Field force pool development and evaluation of their performance.
· Morning meeting with team members to discuss important issues and give guidelines for smooth operations.
· Regular market visits to ensure teams are maintaining their market visit as per the plan/KPI.
· Maintaining good relationship and follow up with trade marketing
· Ensuring required market visibility as per Nagad guideline.
* Business development & coordination:
· Look for new opportunities to expand Nagad business in the respective area/territory.
·Coordination within the organization, outside organization, and project management as per delegation by RSM as and when required.
·Liaison with sales operations, marketing, business development, and trade marketing team for all sorts of business-related issues.
·Market insight capture and regular or ad-hoc reporting as per business need.
Academic:
· Graduate of any discipline from a reputed university.
· MBA will be an added advantage.
Experience:
· Fresh Graduates are encouraged to apply.
· 1-2 Years of experienced resources in the field of Sales & Distribution will also be considered.
· Mobility across the country.
· Positive mindset to work & live in remote areas.
· Ability to adapt & take up challenges in a fast-paced working environment.
· Excellent written and oral communication skills.
· Strong presentation & facilitation skills.
· Strong influencing skills.
· Strong planning, prioritizing, and organizing capabilities.
· Good interpersonal and networking skills.
Number of Vacancies: Multiple
Official Circular Notice: Click here to see the Official Circular Link
See/download NAGAD Territory Officer Job Circular 2023, Job Apply link, Apply Instructions, Application Fee, Payment Process, Salary, Age, and Other Information in the images  below: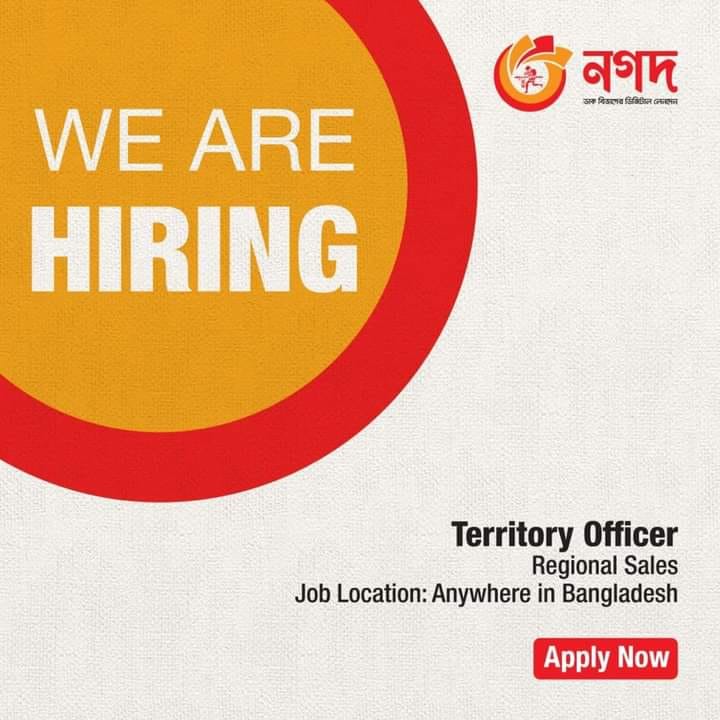 Courtesy: To all authorities from where documents are collected
N.B: Generally we try to update any news. For any Change, reform, or republishing of any news, we are not responsible.
For more updates stay with our website jobstestbd.com 
NAGAD Job Circular 2023: 
NAGAD TO Job Circular 2023 has been published by the authority. NAGAD Circular all information is given above. NAGAD is one of the largest Non-Government organizations in Bangladesh. NAGAD has published a huge job circular by the Authority. All information regarding the appointment of NAGAD is given on our website jobstestbd.com. We Publish all Jobs Circular Every day, Such as Government Jobs in Bangladesh, Bank Jobs in Bangladesh, Private Jobs in Bangladesh, International NGOs in Bangladesh, Private companies in Bangladesh, and Private University Jobs in Bangladesh. Bank Jobs Results, Government Jobs Results, Government University Jobs Results in Bangladesh and all Part-time Jobs in Bangladesh and other educational support are available here on our website. We provide different types of job information with also provide some adequate information or resource and job tips which helps to get a job easily. We trust that our distributing data helps the activity searchers who are finding superior employment. We likewise share slanting assets for learners uniquely who is re expanding their insight. Our principle target turns into a trusty occupations round site in Bangladesh by distributing a genuine refresh that enables the joblessness to individuals. All the jobs on this website are not for unemployed people but also for employed people too. All types of suggestions and question solutions for the different competitive exams are available here. We provide all types of educational support on our website jobstestbd.com. So every day tune in to our website for all kinds of educational support. Please like our Facebook page jobstestbd.com.
Contact Us:
If you want to give an advertisement on our website for any product of your organization please contact us by following Address.
Inbox to Facebook: jobstestbd.com
Email at: jobstestbd.com@gmail.com
Contact No.: 01720403750
Mirpur 1, Dhaka, Bangladesh.